Publication: Wisconsin Badger Builder / November – December 1998
Author: Bill Binn, WBA President
As I begin my term and write my first column as Wisconsin Builders Association president, I would like to first thank Bill Carity for his personal commitment to our association and the excellent job he has done of serving as our president. Early in his term, Bill publicly stated that his primary goal as president was to secure WBA financially for the future. That mission made a hard year for Bill, and was, at times, unpopular with some in the organization. But, the process was necessary, and Bill did an exceptional job of steering our association through it. On behalf of everyone in the association who will benefit from his efforts for years to come, thank you, Bill, for having the guts and the talent to do what needed to be done.
I would like to take some time to introduce myself as your new president. It is important for you to know that I am a small custom builder from Lake Geneva who builds four to seven new homes a year and also does 10 to 20 remodeling projects. My company is 10 years old, and I have been a member of the Lakeland Builders Association, the Wisconsin Builders Association, and the National Association of Home Builders for all of those years. Like you, I work for a living, worry about how to balance my income and expenses, and wonder how I am going to get all the work I have taken on done on time.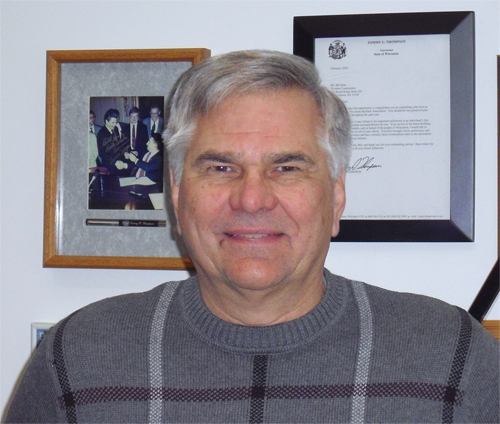 I am proud to tell you that my family – Jimalee, my wife of 20 years, and our daughters Stephanie, 14, and Malorie, 11 – are my highest priority in life. When our oldest daughter was born, a very wise man handed me a piece of paper that said, "the most important thing a man can do for his daughter is to love her mother". Those words of wisdom have been a great gift to me, and I have done my best to live accordingly. Unlike business, you only get one chance to raise kids, so 15 years ago, Jimalee and I made a commitment to make our family our priority. Jimalee stopped working outside the home and stayed home full-time with the girls. I know I could have made more money in my career if I hadn't decided early on that it was important to be home at night and spend time with my family. Although our choices may have cost us some financial gain, doing our best as parents is much more important to us and continues to have rewards no money could ever buy.
During the first 20 or so years of our lives, we are constantly trying new things; goin to sleep without a bottle, putting ourselves to bed, going to camp for a week, going away to college, getting married, moving away from the place we called home, maybe starting our own business, and starting our own family. Once all that's in place, people need to continue getting involved in something new, or life can get stagnant. The opportunity I see for our builders associations, like our churches and other community groups, is to provide a worthwhile organization in which people can get involved to channel their energy and their need to grow.
As your new state association president, one of my top priorities is to expand our public relations program. One realization that came out of the past year's dues increase process was that not enough of our members know what WBA does for them and what opportunities are available to members at the state level. I hope we can elevate our Public Relations Committee to a level similar to what the Government Affairs Committee was achieved. Like what happened with government affairs, as soon as we get the majority of locals involved, we will see positive results from members driving our public relations momentum and activities.
Under the leadership of WBA Public Relations Committee Chair Mary Anne Moore-Church, the committee is already off to a good start. During the upcoming year, the committee has set its sights on expanding press releases and other media relations efforts, assisting local associations with public relations activities, increasing WBA's co-op advertising program, assisting locals with website development, offering spokesperson training programs twice annually, continuing WBA's Community Project Awards program, and other projects. The committee has my full support and encouragement to continue developing WBA's public relations presence. However, it won't happen without the committed involvement of our local members.
For me, the key to success in business and life is communication. From my deaf parents, I learned early on that eye contact and other good communication skills are essential in everything we do. Taking the WBA public relations program to new heights will strengthen the valuable communication channels of our association and our industry, and I will be proud of my term as WBA president if we can look back when it's over and see how far we've come.